I love a dramatic pop of color. Not in a "steal the show" kind of way, but just as an unexpected moment for certain rooms.
Dark colors are a little scary to work with because if they're too dark or moody, they can throw off the balance of the house.
Using dark blue in your home can add a layer of interest and add sophistication to your space. Deep shades such as navy blue or deep indigo can emanate power and wealth, giving off a traditional French vibe.
You can even incorporate this beautiful color in areas other than your walls. Here are a few ways I incorporate this color in my own home.
1. Accent Wall
Using a specific wall in your home as an accent wall is a great way to draw attention and add contrast to your home.
For a more dramatic effect, you can use the wainscotting or board and batten technique to bring the accent wall to life.
You won't need to hang any pictures or decor on this wall because the color and texture will be enough to make it stand out as a masterpiece.
It's a great way to make a statement in a cost-efficient way, and the deep blue will go with almost any style of home.
2. Kitchen Cabinets
A beautiful way to update your existing cabinets with a gorgeous color is by using a deep blue color on the cabinets and gold hardware.
If you've considered updating your cabinets anyway, take advantage of the opportunity and paint them a deep blue to add contrast and interest to your kitchen.
They're the perfect contrast to white, marble, or concrete countertops, and you can dress the color up or down depending on the hardware.
Don't want to go that bold? Consider just painting your lower cabinets a dark blue color and paint your upper cabinets a creamy white.
They'll contrast each other nicely, and you'll still get a brilliant pop of color in this space.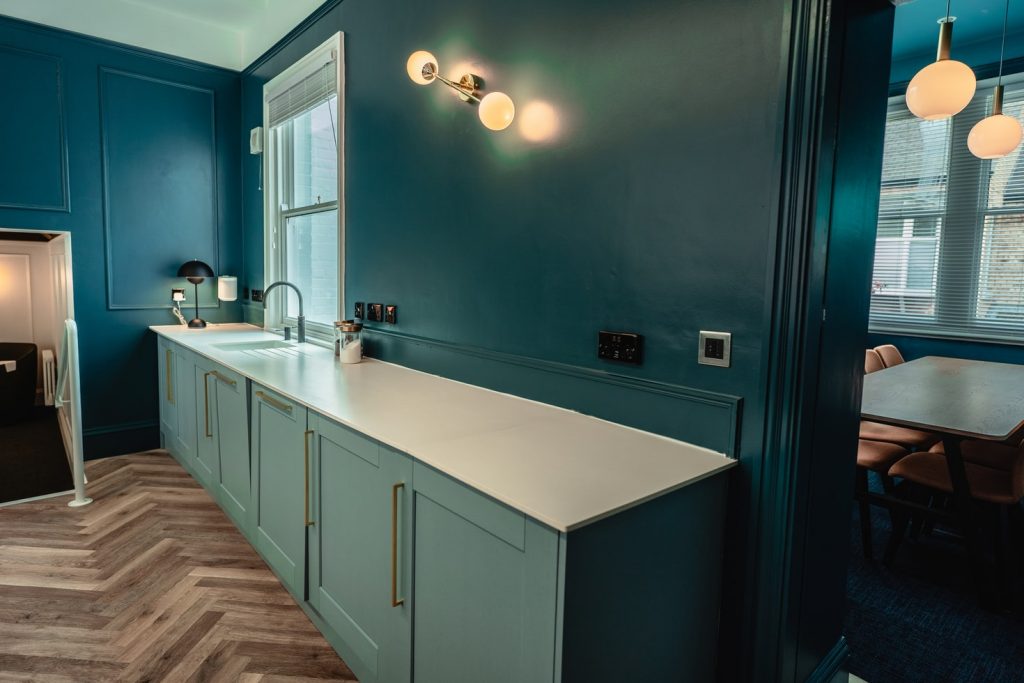 3. Bathroom Color
I love adding color to unexpected rooms like the laundry room and bathrooms.
It's expected that those rooms will be neutral and a little boring, so adding a bold color is a way to have fun in small rooms.
Adding a deep blue color to your bathroom wall can make the space feel cozy and secure. It's a great way to spice up the bathroom in an extremely cost-efficient way.
You can also find inspiration for your kitchen and paint the bathroom cabinets blue. I love a crisp white bathroom with a bold cabinet color.
The bathroom will still feel clean and bright, but you'll have a fun contrasting moment in what would otherwise be an easily forgettable cabinet.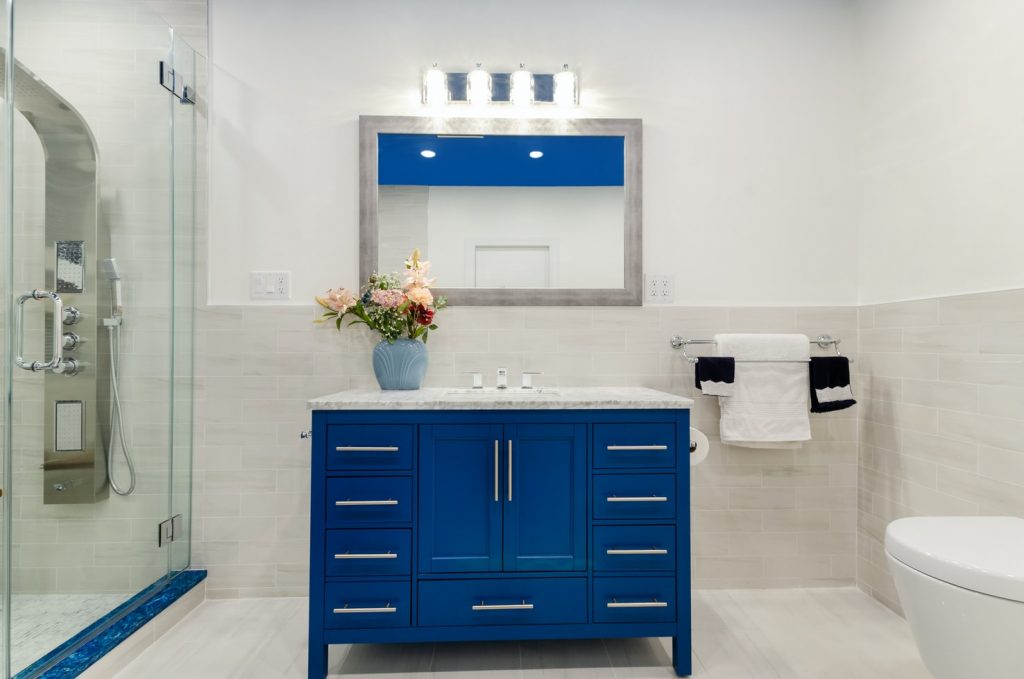 4. Decor and Accents
If you're looking for a subtle way to add a pop of color, you can use decor and accents. I like to keep my living room neutral, but I use throw pillows and blankets to add a pop of color.
Use a soft white or tan sofa and add a fun blue velvet throw pillow for some contrast. The blue will stand out, but it won't steal the show.
You can even find affordable abstract paintings with different shades of blue to hang on the walls. With white walls and neutral color furniture, the painting will be a great way to add a modern pop of color to your home.